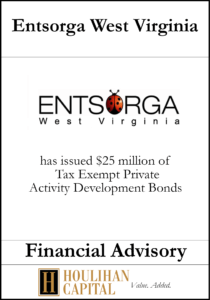 March, 2016
Entsorga West Virginia's Issuance of $25 million of Tax Exempt
Private Activity Development Bonds
Houlihan Capital served as the exclusive financial advisor to EWV on this transaction.
Entsorga West Virginia, LLC ("EWV") located in Martinsburg, WV, sold $25 million of tax exempt, private activity development bonds. The bond proceeds and partner equity will fund the construction and start-up activities of a Mechanical Biological Treatment facility that will process municipal solid waste (MSW) to produce a solid recovered fuel.
Solid recovered fuel (SRF) is made from the carbon content of MSW – plastics, paper, cardboard, textiles, wood, and organic plant matter. The SRF will be sold to a local cement plant that will burn it to heat to 2,000 degrees the kiln that chemically transforms limestone into cement clinker. SRF has a per pound BTU content of approximately 75% of the coal it substitutes. The substitution of SRF for coal reduces CO2 emissions by approximately 40%.
In addition to the SRF, the plant will also extract traditional recycled ferrous and non-ferrous metals. The net result of this process is 85% to 90% of the MSW collected will be diverted from burial in a landfill and recycled.
Houlihan Capital acted as the exclusive investment banking advisor to the management team and owners of EWV as it determined the most effective structure to achieve its financing objectives. For more information, contact Joe Lunkes, Managing Director at 312-450-8638 or jlunkes@houlihan.com.
Houlihan Capital, a leading boutique professional financial services firm, is SOC-compliant, a Financial Industry Regulatory Authority (FINRA) and SIPC member. Its Valuation and Financial Advisory Group provides portfolio valuations, transaction opinions and a variety of consulting services. The firm's Investment Banking Group offers sell/buy side advisory, capital raises and secondary market advisory services. Houlihan Capital serves a myriad of clients in a wide array of industries, through an integrated advisory approach that draws upon strategic and technical expertise, industry knowledge, transactional and financing experience, and an expansive network of institutional and private investors to guide management teams and investors. Visit www.houlihan.com to learn more.