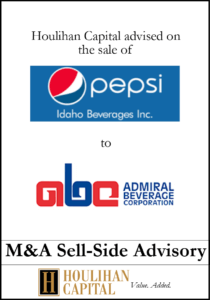 July 2021
Idaho Beverages, Inc.
Sale to Admiral Beverage Corporation
Sector: Food & Beverage Distribution
Houlihan Capital is pleased to announce the sale of Idaho Beverages, Inc., a family-owned food and beverage distributor, to Worland, Wyoming-based Admiral Beverage Corporation.
Headquartered in Lewiston, Idaho, Idaho Beverages, Inc. ("Idaho Beverages" or the "Company") is a regional Pepsi bottler and distributor of carbonated soft drinks, water, energy drinks, tea, coffee, sports drinks, and juices. In addition, the Company offers full-line snack vending, vending machine repair & maintenance services, beverage fountain sales & services, office coffee distribution, and coffee machine repair & maintenance services. With a legacy dating back to 1927, Idaho Beverages has delivered its broad array of products and services to supermarket, convenience store, restaurant, and corporate customers throughout Idaho, Oregon, and Washington.
Admiral Beverage's history dates back to 1945, growing from a single location to a company that currently operates 35 facilities in eight (8) states contiguous to the territory of Idaho Beverages. Bob Callan of Admiral Beverage stated that the "acquisition of Idaho Beverages was a natural fit for our company."
Houlihan Capital represented and advised the management team and owners of Idaho Beverages as it conducted a comprehensive process to identify and initiate discussions with multiple strategic acquirers.
For more information on this transaction, please contact: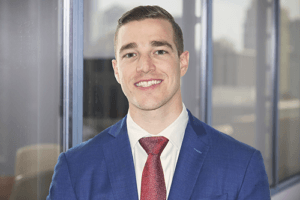 Cole Giordon
Vice President
cgiordon@houlihancapital.com
(312) 450-8621