Houlihan Capital's Investment Banking group is pleased to announce the following transaction: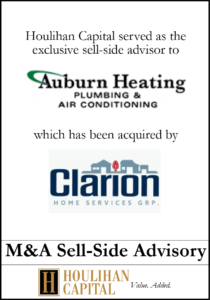 Date: April 2023
Client: Auburn Heating
Sector: Supply Chain, Construction, & Facility Services
Industry: Residential & Commercial HVAC
Houlihan Capital (Chicago, IL) acted as the exclusive financial advisor on the sale of Go Green Heating, Air Conditioning, Indoor Air Quality, Inc. (d/b/a Auburn Heating, Plumbing & Air Conditioning), to Clarion Home Services Group (Chicago, IL), a portfolio company of LightBay Capital. The transaction closed on April 1, 2023.
Headquartered in Chagrin Falls, OH, Auburn Heating, Plumbing & Air Conditioning specializes in heating and A/C installation and repair services for both residential and commercial customers. The business was acquired by Frank DiMarco in 2014 and has grown to become one of the leading HVAC service providers in the greater Cleveland area.
Houlihan Capital represented and advised the owners of Auburn Heating, Plumbing & Air Conditioning as it conducted a comprehensive process to identify and initiate discussions with strategic and financial acquirers.
For more information on this transaction, please contact:
Jacques Zureikat
Senior Associate
jzureikat@houlihancapital.com
Direct: 312.450.8634 | Cell: 872.277.0186