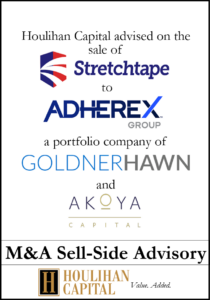 Date: July 2023
Client: Stretchtape
Sale to: AdhereX Group
Industry: Packaging & Labeling Services
Houlihan Capital (Cleveland, OH) acted as the exclusive financial advisor on the sale of Stretchtape, Inc. ("Stretchtape") to AdhereX Group (Little Ferry, NJ), a portfolio company of Goldner Hawn (Minneapolis, MN) and Akoya Capital Partners (Chicago, IL). The transaction closed on July 27, 2023.
Founded in 1983 and headquartered in Cleveland, OH, Stretchtape is a leading converter of stretch films and related packaging products. For four decades, the family-owned business has excelled, positioning Stretchtape as a leading supplier of polyethylene and polypropylene films for the packaging industry.
Houlihan Capital represented and advised the owners of Stretchtape as it conducted a comprehensive process to identify and initiate discussions with strategic and financial acquirers.
For more information on this transaction, please contact:
Chuck Fenske, CVA
Vice President
cfenske@houlihancaptial.com
(216) 273-3593