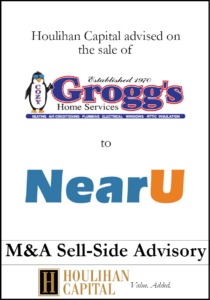 August 2021
Grogg's Home Services
Sale to NearU
Sector: Home Services
Houlihan Capital acted as the exclusive financial advisor on the sale of Grogg's Heating & Air Conditioning, Inc. (d/b/a Grogg's Home Services), to Charlotte, North Carolina based NearU Services.
Headquartered in Parkersburg, West Virginia, Grogg's specializes in residential HVAC, plumbing and electrical services. Since 1970, Grogg's has emerged as a market leader throughout West Virginia and eastern Ohio due to its strong culture and passion for excellent customer service. The company now joins a fast-growing NearU platform that aims to propel Grogg's into its next phase of growth.
Houlihan Capital represented and advised the owners of Grogg's as it conducted a comprehensive process to identify and initiate discussions with strategic and financial acquirers.
For more information on this transaction, please contact: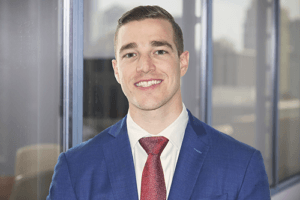 Cole Giordon
Vice President
cgiordon@houlihancapital.com
(312) 450-8621