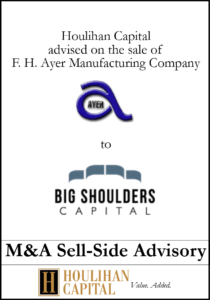 August 2020
F. H. Ayer Manufacturing Company
Sale to Big Shoulders Capital
Sector: Industrial Services
Houlihan Capital acted as exclusive financial advisor on the sale of F. H. Ayer Manufacturing Company, a quality rebuilder and re-conditioner of rotating equipment, to Northbrook, Illinois-based Big Shoulders Capital.
Headquartered in Chicago Heights, F. H. Ayer specialized in industrial pump, turbine, gearbox, and valve repair. The company also provided machining and field services, as well as specialty part manufacturing. Founded in 1906, F. H. Ayer built a reputation with some of America's largest manufacturers, providing services to the steel, maritime, chemical, energy and food industries.
Houlihan Capital represented and advised the management team and owners of F. H. Ayer as it conducted a comprehensive process to identify and initiate discussions with strategic and financial acquirers.